Have you ever looked at your business' website and wondered, "What is the point of this thing?" If so, you've probably got some work to do. A website should not be something that is built, published, and never touched again. If you really think about it, your website serves several functions, such as attracting new leads, processing sales, and advertising your brand. One of the greatest ways a business can hurt themselves is by treating their website like an online brochure, instead of their strongest marketing asset. With that in mind, don't you want a website that doesn't just work, but works for you?
Your website should be:
Attractive and up-to-date with your products and/or services

Well optimized for SEO

Responsive

Designed to move prospects through the Buyer's Journey
So, how do you make sure your website is all that and a bag of chips? Here's how:
Attractive & Up-to-Date-
It's said that from the time a visitor arrives at your website, you only have about 8 seconds to grab their attention before they leave. If your website is stale and outdated, this is where it will stand out like a sore thumb. Therefore, the content on your homepage needs to be current and clearly define who you are, what you do, and who you do it for. You also want to make a connection with the visitor so they know they are in the right place and you are speaking to their needs and concerns. The only thing constant about the internet is that it is constantly changing. Because of this, you need to be sure your website is up-to-date and fully functional so no matter when someone visits the site, it looks and operates exactly how you want it to.
Here's an example of homepage content that makes a connection with the target visitor: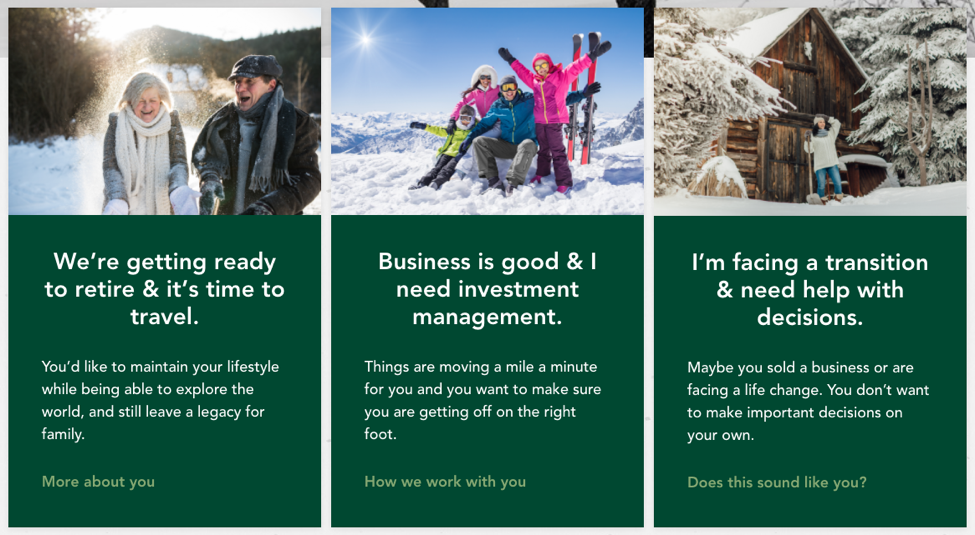 Optimized-
SEO (search engine optimization) is an integral part of being found online. 93% of all online interactions and experiences begin with a search engine, and 75-90% of clicks happen on the first page of Google. So, it's important that your website ranks well on search engine results pages (SERP's). The way you do that is by optimizing your website with:
Keywords
Metatags and descriptions
Image alt text
Sitemap
Google Analytics
Blogs
Product/service descriptions
CTAs (calls-to-action)
Responsive-
There has been a major shift in the way buyers shop for products and services. Today's empowered buyer is conducting research online in the awareness and consideration stages of the buyer's journey. And, customers are no longer using the telephone as their main way to get in contact with customer service. Instead, they're turning to our website and social media platforms to get ahold of us, directly, via messenger- often on their mobile device. Responsive websites should:
Be mobile-friendly
Support social sharing
Have fast page load time
Include all necessary contact information
Offer a messenger option
Designed to move prospects through the Buyer's Journey-
There are 3 stages of the Buyer's Journey- Awareness, Consideration, and Decision. During each stage, the buyer exhibits specific behavior and you need to be sure your website is equipped with the content they are searching for in order to properly move them through the Buyer's Journey.
During the Awareness stage, a prospect is experiencing and expressing a problem or opportunity- meaning they will research their symptoms, for example, to try to identify and label their problem or opportunity. When someone in the awareness stage lands on your website, they are looking for content such as white papers, eBooks, or other educational information.
Someone in the Consideration stage has clearly defined and given a name to their problem or opportunity- meaning they're ready to search for solutions. Now they are on your website looking for content such as webcasts, expert guides, videos, or comparison white papers.
Someone in the Decision stage has decided on their solution strategy, method, or approach- meaning they have a final product or service in mind. Now, they are looking for content such as vendor comparisons, case studies, or live demos.
Like we said, the only thing that is constant about the internet is that it is constantly changing. Due to this chaos, your website needs regularly scheduled check-ups to ensure everything is as it should be. These check-ups will look for things such as SERP rankings, competitor rankings, CTA placement, user-friendly pages, search engine optimization, alt text, etc. Basically, anything and everything that can affect your Google rankings and keep you high in search rankings. Your website is one of your strongest marketing tools and should be used as such.