Trade shows: love them or hate them, if you're in the manufacturing business you know that these events are still a common way for companies to gain more exposure and sell more product. There is something to be said for traveling to a place where hundreds of leads and customers are brought straight to you. So, what's to hate? The cost.
Manufacturing companies often spend tens or even hundreds of thousands of dollars per trade show! Because of this, many are rethinking their trade show strategy to ensure that they maximize their return on investment. Marketing needs to be brought into the process to ensure that business development and sales efforts are supported by helpful content that moves leads and prospects through the buyer's journey. This will greatly increase your trade show ROI!
Here are four tips that will help you get the most bang for your buck…
Understand the Buyer's Journey Leads usually need to be nurtured for a while before they are ready to make a decision about your product/service. Many people you see at the trade show will still be in the awareness stage or the consideration stage of the buyer's journey. Because of this, your sales team should avoid making the common mistake of trying a little too hard to sell on the spot. Instead, think of trade shows as a chance to make more people aware of your company and products. If someone seems particularly interested right then and there, be sure to pitch to their problems and let them know how you could be the solution they're looking for. As long as you get their contact info and stick to the next three steps, marketing and sales can work together after the event to close the deal at a more appropriate time.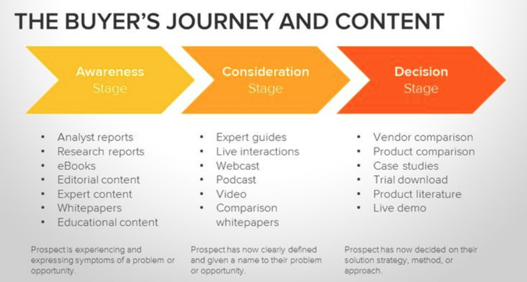 Think Ahead If collateral is prepared ahead of time, your marketing and sales teams will be able to skillfully lead people you meet at the trade show through the buyer's journey. You're probably used to printing brochures to bring to events, but don't forget about the digital pieces as well. Create helpful, online content prior to the show such as case studies, cheat sheets, testimonials, videos, blogs and downloads. These are extra useful because they can all be referred to in follow up emails in an effort to move leads towards the decision stage.
Understand and Embrace Your CRM Companies that engage in the process of developing leads, prospects, and client relationships need to actively use their CRM programs. First, go into a show knowing exactly which pieces of information that needs to be collect about the leads you'll meet. Then, have a plan for actually getting this info into the company's CRM. This is key because the CRM is a critical component in moving leads through the buyer's journey. The good news is that most software exists to make processes like this easy for sales and marketing people, so take advantage of every feature offered. Some CRMs even allow you to scan business cards with your phone so that the contact information can be entered on the spot!
Follow Buyers Through the ENTIRE Journey So, the show's over, your sales team successfully connected with new leads and loaded their info into the CRM. What's next? Actually contact all those leads, right away! Setting up automated email sequences and workflows in your CRM or marketing software is the easiest ways to make sure that trade show leads keep your company top of mind, which makes them more likely to become customers! Most software even lets you turn on notifications that let sales/marketing team members know who is a hot lead based on the actions they've taken after receiving emails. Did the lead follow the links back to that collateral you created before the show? Did they click around on your website for a while or download some helpful content? If so, the CRM will let you know that it's time for sales to reach back out and start pitching.
The bottom line? If someone doesn't follow up with every lead gained at a trade show in a timely fashion, it might not have been worth spending your money getting them there. The solution? Don't let leads get lost, actively nurture them to increase your trade show ROI!