Don't underestimate the power of a hashtag! According to Sprout Social, an Instagram post with at least one hashtag averages 12.6% more engagement than a post with no hashtags. Plus, if you use hashtags strategically, they will not only help you reach more people, they will help you reach the right people.
It can be difficult for your target audience to find you on Instagram considering the size of the popular platform. According to TechCrunch, there are around one billion monthly active users! Thankfully, hashtags can help bring the users who are genuinely interested in your content right to your grid.
If you want to use hashtags on Instagram that will generate measurable, significant engagement, check out our top tips below...
Social Media Means Spur of the Moment Content
You can plan all you want, but the world of social media marketing moves so quickly that it's best to be agile. If you're drafting all your posts in advance and scheduling them like a robot, you'll forget to capture and share all of the amazing, current content happening around you in that moment!
Hashtags can go stale just like any other social content. What's trending changes daily, and the popularity of lesser-used tags fluctuates even more frequently. That's why it's best to decide which hashtags to use right when you post. This way you can make decisions about your caption based off of current numbers.
It is common to come up with a reference list of hashtags that are generally related to your business and might be good additions to your content, but whatever you do, don't copy/paste the entire list every time you post. Most users will find that annoying and redundant. Even Instagram's community guidelines urge users not to post repetitive content.
Research & Experiment
Again, a little research and preparation, like recording potential hashtags in a document or a note on your phone, is be a good thing if done well. To compile your list, look at the hashtags your competition is using. Do they have a large follower count? Maybe they're doing something right! Do their posts annoy you? Maybe avoid those hashtags then and brainstorm some that you consider to be more interesting and unique. You should also take note of the hashtags any previously identified target audiences are already using on Instagram.
There are some numbers you can go off of. To start, Instagram caps hashtag usage at 30 per post. Most marketers, however, would consider that to be too many. According to an analysis by TrackMaven, posts with nine hashtags receive the most engagement. But the real magic happens when you fly by the seat of your pants and just give something a try!
Experimentation is almost more important in social media marketing than research. Just don't forget to check your analytics afterwards! Record the hashtags that are used in your most successful posts, then keep using them!
Choose Hashtags as if You're Goldilocks
This hashtag's too big... One popular strategy is to use the trendiest tags on the platform, but depending on the size of your business, using only hashtags that are already in millions of captions could lead to your post floating out into cyberspace, never to be seen again.
This hashtag's too little... Then there are the hashtags that have only been used in 100 posts or less. These might not make you discoverable enough. They include hashtags people create specifically for their own small businesses and campaigns. Coming up with your own hashtags can be a great way to reinforce your brand, but since you're starting from scratch, it might be a while before they actually drive engagement.
This hashtag's just right! To find your very own perfect group of hashtags, you must do the research and experimentation that was previously mentioned. Use a few popular tags and a few niche tags until you figure out which combinations work best for you. Our advice? Go for hashtags that some people are following and using, but not those that millions of people have already exhausted. For example, as of the day this blog was written, #marketing has been used in 34.3 million posts already, but narrowing that topic down just a little to #inboundmarketing already lowers that number to about 580,000.
Let's get technical. How can you tell how many times a hashtag has been used? Thankfully, there are a couple of simple options. If you take a spur of the moment picture and go to type out a hashtag in the caption, you will see a list pop up underneath your post that includes the tag in question and the number of posts already containing it. Or, you could do this during your research process. The same information can be attained by using Instagram's search feature to look up a hashtag but don't forget how often these numbers are updated!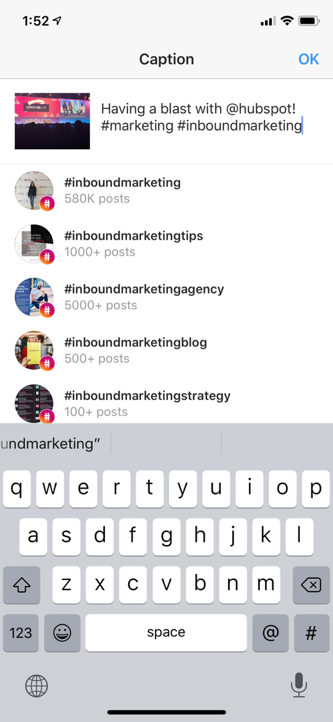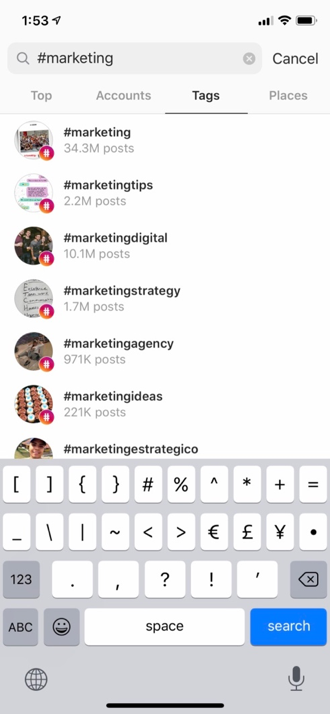 By the way, see all those related hashtags that pop up as well? This is a goldmine of new ideas!
We'll leave you with a few bonus tips…
Give out your location. This is not something people normally advocate for on the internet, but when it comes to promoting your business on social media, if you want to be found, you've got to make it easy! Besides tagging your location on Instagram, you'll probably find that there are many hashtags related to your area, from obvious choices to some that are more directly related to your field of business.
Tell a story. Stories are extremely successful across all platforms, especially Instagram, and you can use hashtags in them! Unlike with posts, the limit for hashtags in Instagram stories is 10, so keep that in mind. There's even a hashtag "sticker" feature!
Update your bio. If you do end up creating your own hashtag, you can include it in your bio. This way, other users know that's what they should use in their posts if they'd like to engage with you or promote your campaign on their own profiles.
There are just so many ways to use hashtags, especially on Instagram. They can expose your company to entirely new audiences! Whether your tagged post or story gets reposted by a bigger account or someone following a hashtag sees your content that way and decides to give your profile a follow too, there are so many opportunities for growth!