We don't say much about Snapchat anymore because for most brands, though certainly not all, this platform holds very little value, especially in comparison with other options. However, it's worth noting that a feature they introduced in October of 2013 totally changed the game for all social media platforms - Snapchat Stories. Thus began the social experience of sharing content in real time, in the narrative format of a micro-documentary that could be re-watched for a whole day until the snaps disappeared 24 hours after being posted. Users were instantly delighted by this new way of sharing their lives on social media.
Years later, other platforms that had noticed Snapchat's success with their Stories feature caught on and created their own versions. Instagram Stories was launched in August of 2016 and Facebook Stories followed not even a year later in March of 2017. Everyone from WhatsApp to YouTube found ways to introduce similar features, but Instagram is the current star of the show in our eyes.
Just five months after Instagram Stories hit the scene, 150 million people were using the feature every day. At that time Instagram had 600 million monthly active accounts, which was twice the amount that Snapchat had. Now, there are even more monthly active accounts on Instagram. 1 billion to be exact!
The introduction of Stories not only changed the way users can post on multiple platforms, but they influenced what people want to see when they log on. The shift toward social media users enjoying authentic and relatable content happened around the same time, and that's no coincidence. This is not only the style of posts people expect from their friends now, but also from brands. In fact, Nike reported that they had 800,000 views within the first 24 hours that the feature was made available to them!
According to Reputation.com's 2018 Retail Reputation Report, 86% of people say authenticity matters when deciding which brands they like and support. Part of being authentic is being true to your brand, transparent and even a little bit vulnerable. It makes sense if you consider that the opposite of authentic is fake. Nobody wants to do business with a dishonest brand. Earning consumers' trust is easier said than done, though.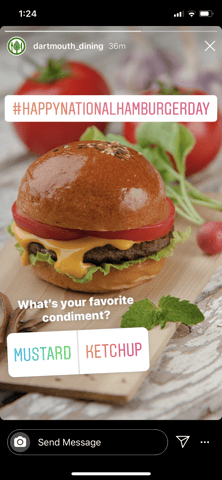 Thankfully, Stories are actually a great way for companies to show that they can be real and raw too. Because the content is ephemeral, there's a lot less pressure to make it perfect. That combined with their spontaneous nature makes personality and vulnerability come across clear as day. Although, some still plan and rehearse Stories before posting and then attempt to make the content seem both flawless and effortless. Of course, as a brand, you should always try to make content that is true to your messaging and presented professionally, but we urge you not to overthink your Stories. Many users can tell when you're faking it, which is the exact opposite of what you want.
So, how do you post an Instagram Story?
Click the camera icon in the top left of your screen, or swipe right from anywhere in your Feed.

From there, you'll be able to tap the bottom middle button to take a photo, press and hold to shoot a video, and a variety of other options, including uploading content from your camera roll.

Explore the other buttons! There are options to add text, stickers, and more.

When you're happy with what you see, tap "Your Story" in the bottom left to post.
Should your brand even be posting to Instagram Stories at all?
The answer is almost definitely yes! Depending on your target audience, it may or may not be something that you should spend a lot of time on, but you should at least dabble. If your prospects and customers are often Millennials and/or Generation Z, then you should absolutely be using Instagram in every way possible. According to Statista, more than half of the global Instagram user population is younger than 34-years-old. But it should be noted, they're not the only demographic who watches Stories. Brands across many industries with many different audiences have found success using Instagram Stories, from fitness, to fashion, to tech, to travel, to food and beverage, and the list goes on!
What type of content should you post to Instagram Stories?
Although you can create solely text and graphic Stories, like with most social media these days, videos and photos are the primary formats shared on this feature. When it comes to subject matter, don't forget that this is the space to share your less-produced content and prove your authenticity. Here are some common and recommended approaches…
A behind-the-scenes look at your business

Some insight into your company culture

Images that are interesting and/or useful but don't fit the aesthetic of your main profile
Plus, because Stories appear right at the top of the Feed, they're extremely noticeable and tempt users into engaging with them right when they first open the app. This makes them perfect for promoting timely content, especially since they'll expire automatically, helping you keep your profile clear of posts that become irrelevant over time. Considering that, here are some other examples of subjects to cover on your Instagram Stories…
Announcements

Sale promotions

Documentation of events in real time
So, consider your target audience, find the platform they're most likely to use, and try posting some of this content with their Stories feature! We think you'll find that it's fun and engaging, which is perfect because that's what you want your followers to think, too! It's also worth noting that you can advertise on Instagram and Facebook Stories. When new social media features are released, they almost always bring with them a lot of opportunities for brands. They may end up being a passing craze, but as you can see from their origin story, it certainly seems like Stories are here to stay.