Sometimes, the best combinations are the unexpected ones, such as museums and selfies. In the past, history and art museums were slow to adopt new technologies, but not these days! In 2015, London blogger Mar Dixon started Museum Selfie Day. She had visited several museums with her daughter and realized that posting about them on social media would be a great way to showcase these places that she loves. Now, every January 21, people worldwide post photos of themselves at their favorite museums as a modern sign of support!
This trend is a far cry from the days of "no photography" signs being plastered around museums. To be fair, these signs were originally implemented to discourage flash photography because it can degrade the quality of conserved works. Fortunately, the quality of smartphone cameras continues to improve every year, and this includes the sensitivity of flash technology. These innovations, along with the desire to engage more with the public, have led to many museums relaxing their rules on photography.
This means that visitors shouldn't be the only people taking to social media. The museums themselves should be on these platforms, promoting what they do. Posting photos of exhibits sparks nostalgia for the followers who have already visited the museum, and if the content is insightful and enticing enough, it will also bring new visitors through the doors. Think of social media as another tool that can assist you in accomplishing your museum's mission. It's just another way to communicate your passion and tell your stories. Here are some tips on exactly how to do that...
Social media makes it easy for you to target specific groups of people. Try targeting some ads towards people who are planning vacations. Museums are tourist destinations. Sprout Social found that consumers share on social media, and include brands in these shares, most often during vacation. On vacation, 60% would post about visiting a museum and 43% would also tag the official page in the post.

If you have a special exhibition that's happening, social media is a great place to push it. "Pin" content about it to the top of your Facebook and Twitter.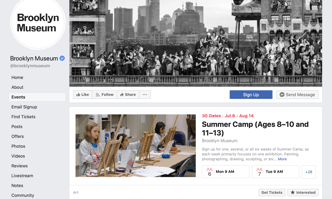 If you have an event coming up, create a Facebook event page for it!

If your museum is a non-profit organization, you can add a "donate" call-to-action button right at the top of your Facebook page.
Make sure you provide as much information as possible about how best to visit your museum within your Facebook page's "About" section. This is more than just making sure that you have the address correct. You can even include information about parking and public transit options.

On platforms like Facebook and Twitter, you can include more information in a graphic and use that as your cover photo. This is helpful if you have important information that you'd like to relay right at the top of the page.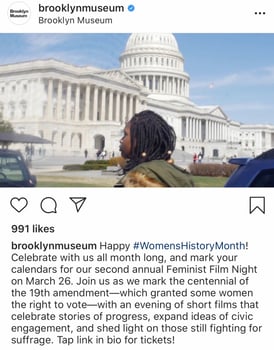 Use trendy and unexpected hashtags on Instagram and Twitter in an attempt to track new audiences.

Include your branded hashtags in your Instagram bio so visitors know which ones to use in their own posts to get your attention.
Don't just post pictures of your collection. Give people a behind-the-scenes view of your institution. Try highlighting your various employees on a regular basis. It's good content and it's good for company culture/retention.

Use the Stories feature on Instagram and Facebook. Because this content is ephemeral, meaning people can only look at it for 24 hours, you can be more spontaneous and playful than you might normally be online.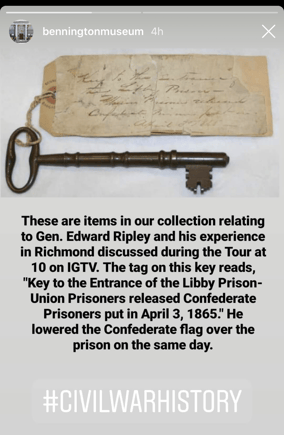 Try going live on Facebook or Instagram. This is a great way to host an informal educational lecture on an exhibit that needs more attention. It also allows you to bring people with a shared interest together in cyberspace. The British Museum has done live events which resulted in comments from people in over 90 different countries!

Encourage followers to leave comments on your posts. Try ending your text in an open-ended question.

When people engage with you online, try and sneak in some more fun facts about, for example, a painting that someone posts a selfie in front of. Museums are here to educate so it's okay and appropriate to bring that purpose with you when you log on.

Interact with other museums and other community attractions, such as aquariums and parks. This will open different audiences' eyes up to all the similar places they could go to have fun!

Connect with any social media influencers and invite them to press previews, events and performances. Their reach will allow your museum to reach new audiences.
Using social media to promote your museum will increase admission and membership sales, increase overall awareness of your museum, continue education around your collection, and promote things about your museum people may not be aware of otherwise. Bridge the gap between online and offline by including your social handles and special hashtags on physical signs so people at the museum can learn how best to connect with you when you leave.
The reality is that a majority of people head to social media when researching something. Make sure that when they arrive on your page they'll be greeted with fun and helpful content that convinces them to visit time and time again!